Endodontic Retreatment in Walnut Creek
With the appropriate care, your teeth that have had endodontic treatment will last as long as other natural teeth. Yet, a tooth that has received treatment may fail to heal or pain may continue to exist. Sometimes, the pain may occur months or years after treatment. If so, Dr. Jensen or Dr. Bernie may need to perform Endodontic Retreatment.
Improper healing may be caused by:
Curved,  narrow or complicated canals that were not noted during the initial treatment.
The crown or restoration was not placed within the appropriate amount of time following the procedure.
The crown or restoration that did not prevent saliva from contaminating the inside of the tooth.
---
Do You Have Any Questions About Your Root Canal Or Other Endodontic Procedure?
Call us!
---
Inflamed Tissue

Filling Removed

Canals Cleaned

Root Material Placed

Filling Restored

Healed Tooth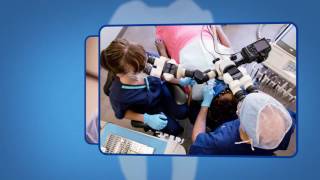 ---